The Michael and Wendy Hays' Race to Feed the Hungry
November 26, 2020 @ 8:00 am

-

10:00 am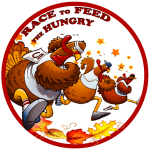 Due to Idaho going back to Stage 2 in regards to COVID-19, we have had to make some changes to the race.
We are going to do everything we can to ensure that we adhere to the local guidelines for social distancing. While we have made changes on our end, it is ultimately up to you to do your part in keeping others safe. If you or anyone in your household has experienced symptoms of COVID-19 recently, please don't come and participate.
We ask that you follow the current guidelines issued by the local government, especially where many joining us the morning of this race will be returning home to family gatherings. Please do your part. 
You can view the current COVID-19 guidelines here. 
Please read the following information carefully as many aspects of the race have changed.
We are so excited to be benefiting the Idaho Falls Community Food Basket again this year. It is a wonderful nonprofit organization that is able to turn $1 of donation into $5 worth of food for families in need in our community. We are grateful you are interested in supporting this cause! Click on the link below to find out more about the Community Food Basket.​
Included in the cost of registration is a commemorative t-shirt, chip timing during the race, a swag bag, and a donation to The Idaho Falls Community Food Basket!
Overall Changes for 2020
We will not have raffle items available this year.
Online registration will close at midnight on Tuesday, November 24th. You can still register at packet pickup and on the morning of the race.
Due to unforeseen circumstances, we won't have finisher medals for running the race. We are taking the money that would have been tied up in the medals and adding it to the donation we are making to the Idaho Falls Community Food Basket.
Packet Pickup:
Will be located at Bill's Bike and Run 930 Pier View Drive, Idaho Falls, 83402.
November 25th from 3 p.m. to 6 p.m.
Packet pickup will be on Wednesday, November 25th from 3-6 p.m. at Bill's Bike and Run at Snake River Landing. Food donations will be accepted there, but will not cover the registration fee as the Food Basket has asked us to focus on making a monetary donation. The Food Basket can make a dollar stretch much further than they can make cans of food stretch and we would like to make as big of a difference as possible.  Please do not come early as you will not be able to pick up your runner bag, t-shirt, timing chip, or number until 3:00 p.m.
Race Day:
NO OFFICIAL START TIME
We will have the arch and timing set up from 8:00 to 10:00. You are welcome to start your race at any point between those two times as long as you finish your race by 10:00.
No awards ceremony. Prizes will be mailed out to the overall and age group winners.
Festivities will begin at 8:00 a.m. on Thursday the 26th, the morning of Thanksgiving Day. The starting and finish line for both the 5k and 10k will be across the street from Bill's Bike and Run (930 Pier View Drive) in Snake River Landing. There is plenty of parking for all participants and spectators behind Bill's Bike and Run (which is the same parking area behind Buffalo Wild Wings).
Awards will be given to the first three men and women to finish each race, as well as the fastest runner in each age group. There will be no official award ceremony so that everyone can get home and spend time with their families once they are done running. Prizes will be mailed to the winners after the race so there is no need to hang around once you have completed the race.
Last year we woke up to our course covered in snow! Please wear warm clothing before, during, and after the race as we can't imagine frostbite on Thanksgiving would be much fun. We will have hand warmers available for everyone who would like them at the beginning of the race.